Bike Voices aims to highlight and elevate prominent members of Tallahassee's biking community as well as the ideas and organizations that they beholden themselves to.
---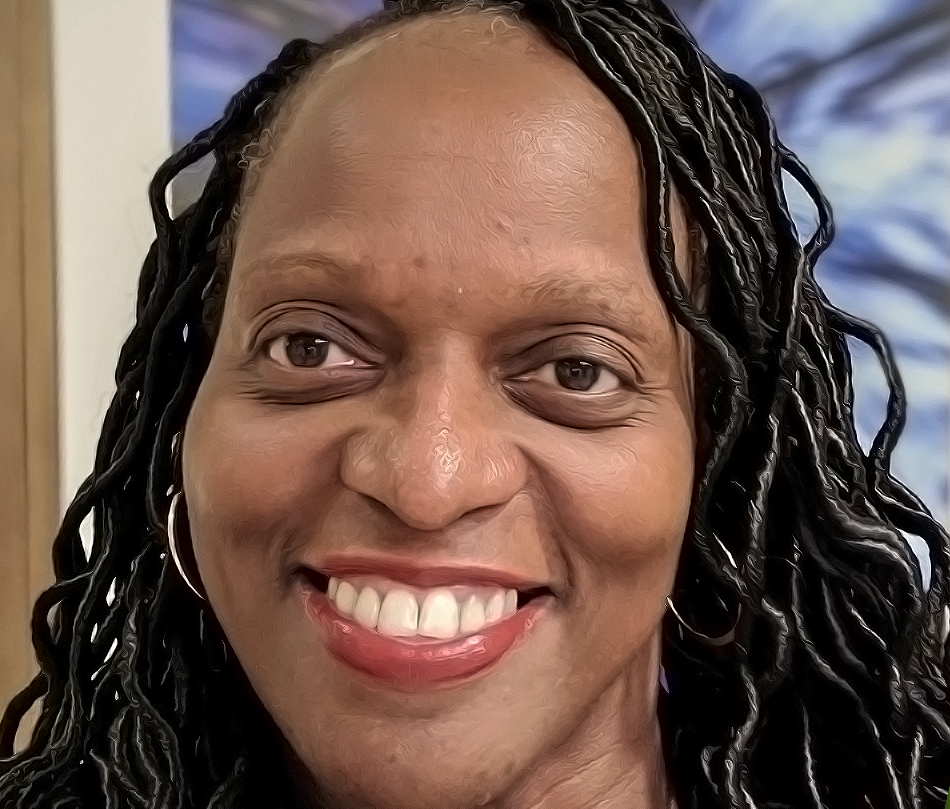 Janice Walker, "Black Girls Do Bike!"
Janice Walker's goal is simple: get more women, specifically women of color, riding bikes in Tallahassee.
There is a lack of representation of people of color and women in cycling. This is obvious to anyone that has found themselves in the biking communities of Tallahassee, not to mention our nation as a whole. In this instance, representation doesn't just mean the number of women and black and brown folks riding, it also includes how the activity is portrayed in branding, advertising, social media, television, and print.
Janice Walker is the Shero (read: chapter founder and lady hero) of Black Girls Do Bike (BGDB) in Tallahassee. Black Girls Do Bike is an international organization that has a membership of over 12,000 people and 100+ chapters.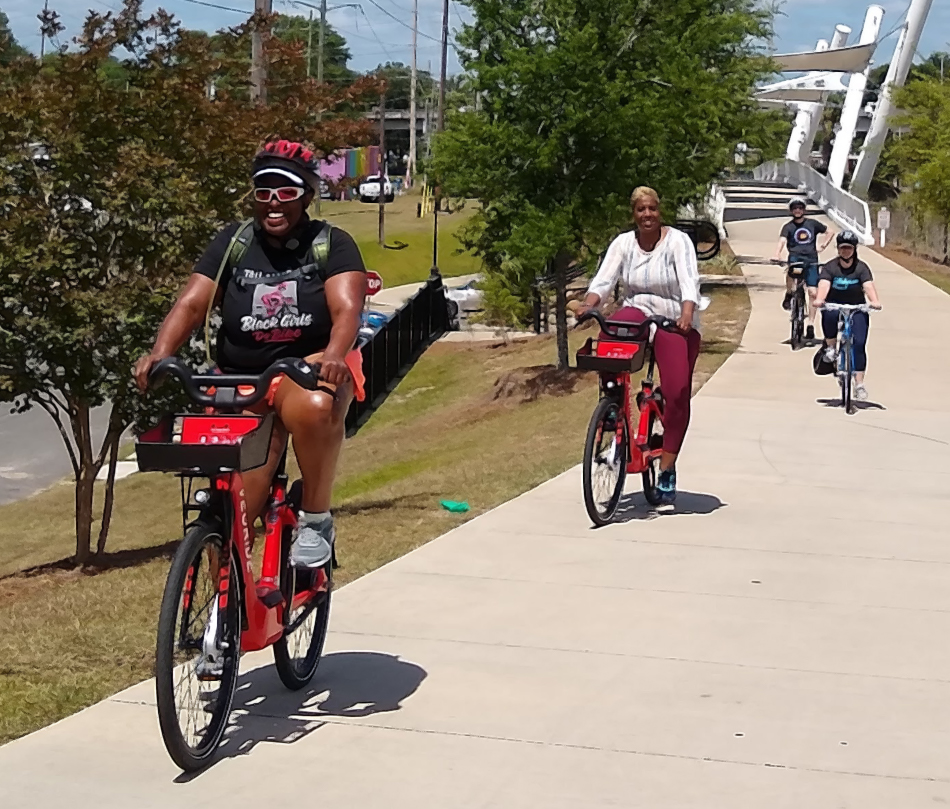 As someone who values both the power and community found in group exercise, Janice sought out others when looking to transition from indoor spin classes to riding outdoors. "Who else can ride with me?" Janice asked herself. Back in 2016, she went on Facebook and found Black Girls Do Bike. There Janice read about Monica Garrison, the organization's founder. "She reminded me of me! We are hungry for images [in cycling] of women who look like us." Like Janice, Monica took to the web and found few images of women of color represented in cycling media. One Facebook group later, and Black Girls Do Bike was given life.
Years later, things transpired, and Janice was able to speak to Monica on the phone: Janice asked about starting a BGDB chapter in Tallahassee, "Can I be a Shero here?" To which Monica replied, "Yeah, we need one." Our local chapter of BGDB now has over 150 members and is growing steadily. Janice proclaims,"This is really getting to be a big thing here!"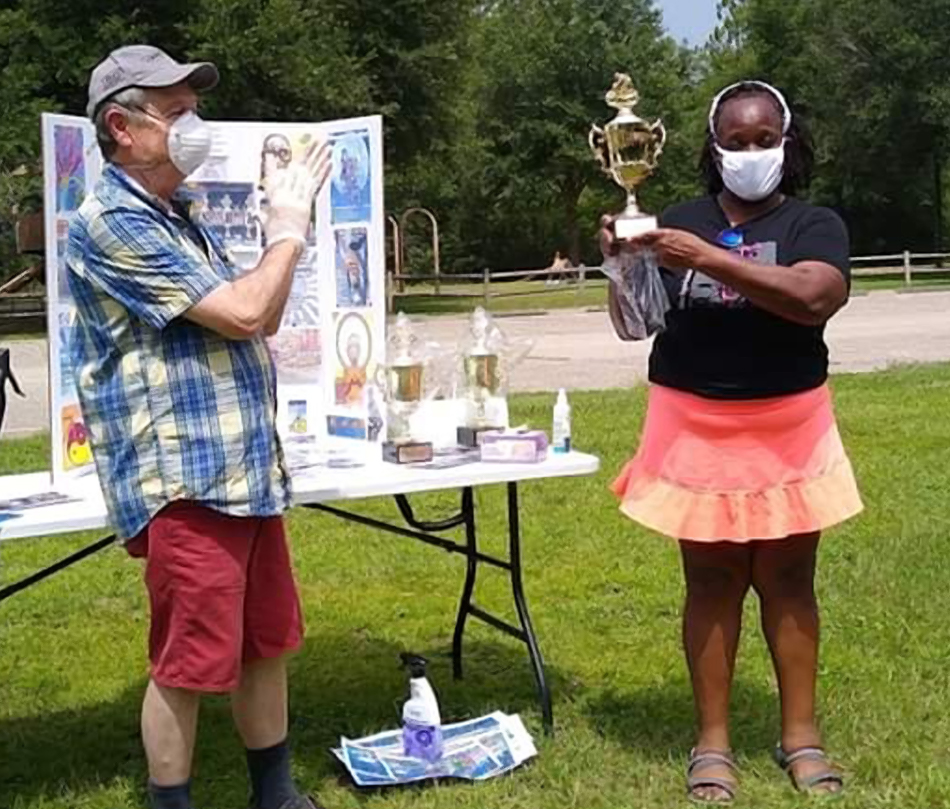 Speaking to the dedication required to grow something from the ground up, Janice remarks, "A lot of people don't like to be first. They're afraid of disappointment. Don't give up, because that group is coming. It may even take 3, 4, 5 years. I've looked at other chapters, like in Houston where they have huge participation. I look at them and go, 'Oh! I wish this group could look like that!' But all in due time, I'm not going to get disappointed. If it's something you really like to do, you stick with it."
When asked why they ride a bicycle, Janice replied, "I love exercise, and also I love cycling. I enjoy the outdoors. On a bike you see so much of nature and the environment. In a vehicle you're going so fast you just pass by so much. On a bicycle you feel the road. You feel the air. You feel the wind blowing through your hair."
It is important to note that all types of people are welcomed to join BGDB. Janice notes, "People of all shapes, sizes, and colors are in our group. That's something that people are hesitant about at first. They think of biking as something for people that are real slim. We cater to all types of riders. We have beginners, we have advanced riders, intermediate. We have all types of speeds that people want to ride. I won't leave anyone behind. I'm not going to leave you behind."
Black Girls Do Bike is growing into a force to be reckoned with in record time, largely in part to grass roots leaders like Janice. To learn more, support, or become a part the organization, visit the national BGDB website. Those local to Tallahassee can get connected with the local BGDB chapter via the BGDB facebook page.
---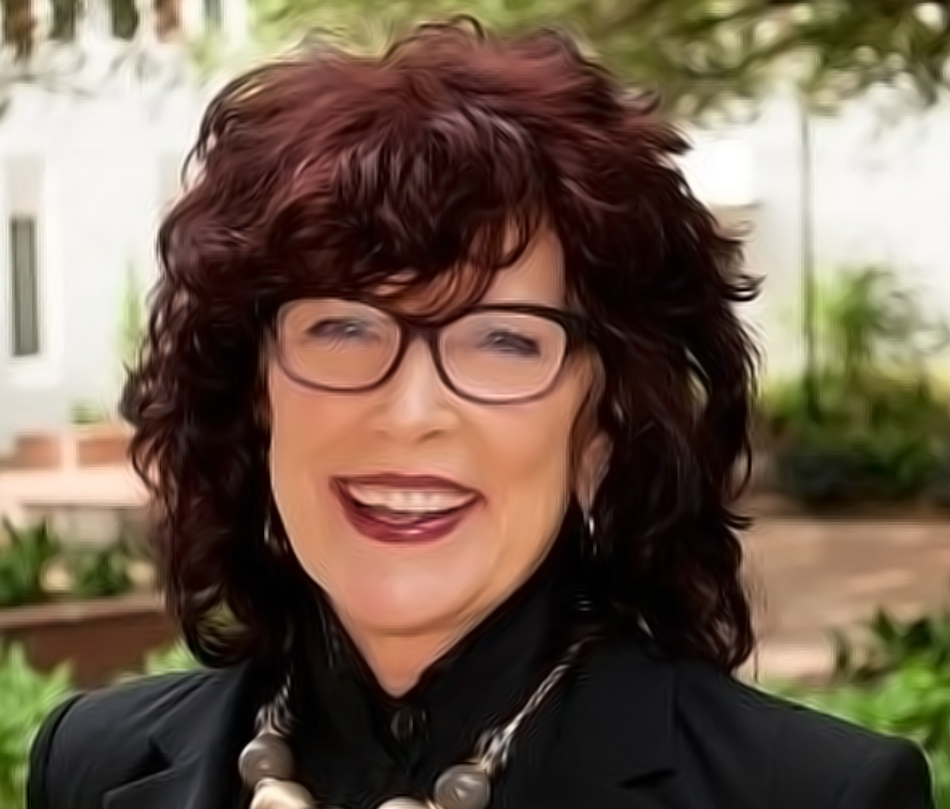 Joanna Southerland-Mele
Joanna's personal journey on the bike wasn't sparked until 2016, when at the age of 66 her son told her she was too old to do a 100 mile ride in Death Valley. Needless to say, the rest is history – Joanna rides centuries multiple times a year now to raise funds for Type 1 Diabetes research. Read the full conversation about Joanna's mission to inspire, educate, and empower through the power of exercise and her new found love for bicycling.
Biking Origins
"I was at some fundraiser in Atlanta, where some man (who thought I was younger than I really was) said 'why don't you do that century ride for Juvenile Diabetes Research Foundation [JDRF]?'" states Joanna Southerland-Mele in an interview with Jacob Fortunas. "Up until this point, I would do walks for JDRF every year to raise money to find a cure, and I didn't know that there was a ride. Phil [my son] who was at the table with me, goes 'Mom, don't do Death Valley. You're too old.'"
Nonetheless, Joanna explained, "Phil was diagnosed with Type I Diabetes at 7 months of age. I was told, as the mom, that he would be dead, blind, or have renal failure by the time he was 24. It was a hard road. I would have to inject him with insulin every night for all the years he was home. The doctors were telling me, 'Phil shouldn't exercise.'"
However, Joanna believes, "exercise is really important for everyone. I've been a fitness instructor for 35 years. Now I just do it on the side with some of my friends for free. I would see inordinate change in people who stuck with it."
Joanna's understanding of the importance of exercise was coupled with her desire to provide her son with a normal childhood. Phil grew up to ride competitively in the cycling community of Tallahassee and beyond. She explains, "at age 24, he put a team together of all Type 1 diabetics and they raced in Race Across America, across the United States - and they won. 'Team Type 1,' that's what that was called. That was in 2006, 7, 8, 9, they did this Race Across America, you could read the story on the internet a million places." Phil has gone on to be the Co-Founder and CEO of Team Novo Nordisk, the world's first all-diabetes pro cycling team. "They're serious athletes."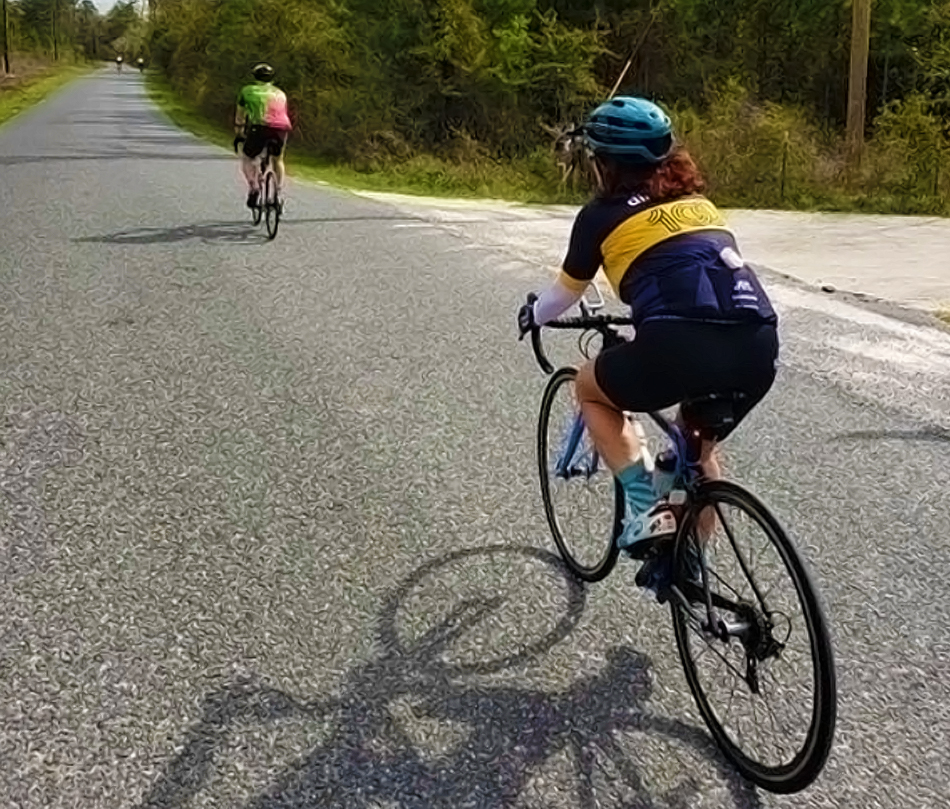 Contrary to what you may believe, Joanna is far from a lifetime cyclist. It wasn't until recently that Joanna found her passion for biking. At age 66, set to prove her son wrong and fundraise for the Juvenile Diabetes Research Foundation, Joanna set off to train for the 2016 Death Valley Century. She states, "I was determined to do 100 miles in Death Valley, California. Every time I was dehydrated, dying, biking somewhere around Havana, I would echo Phil's words: 'Mom, you're too old.' There was always someone to help, and encourage me, when I thought I was going to die. Somehow through that encouragement (mostly from a friend, Rick Ashton), we got to do 50 mile rides, 60 mile rides, 70 mile rides, 80…"
When race day in Death Valley came in September of 2016, the weather wasn't exactly ideal. "Because of the high winds we had to actually do 78 miles, which was plenty. They wouldn't let us ride any further. Two weeks later I did 100 miles in Amelia Island, which after Death Valley was a piece of cake."
Why do you ride?
Each year since, Joanna has gone on to do cycling century rides to raise money to find a cure for Type 1 Diabetes. She is now 71. When asked why she rides, she answered, "when your son has a disease, and you want it to go away... I still hear stories all the time of people whose children have been diagnosed, and they are absolutely devastated, and so I ride for them, because I know what it's like. It's horrible."
Aside from using the bicycle as a tool to elicit change, Joanna affirmed, "I just love cycling. Once I started, the feeling of being outside on these beautiful roads, and off-road, it was like this glorious world opened up to me. Even if it was just 5 miles, it was such a joy. I'd think, 'why didn't I do this when I was younger? I wasted all this time at the gym, ugh!' I was so sad that I spent all those years inside a gym."
Today, you may find Joanna enjoying the rolling hills and canopy of oaks out Whitehouse Road, or on the wide clay roads South of Thomasville. At 71, she is out riding not only to advocate for Type 1 Diabetes research, but also to uphold the benefits that exercise can have for all people. She concludes, " the goal is to be able to pick up our grandkids - and keep up with them, which I had to do this weekend, because they're all on bikes."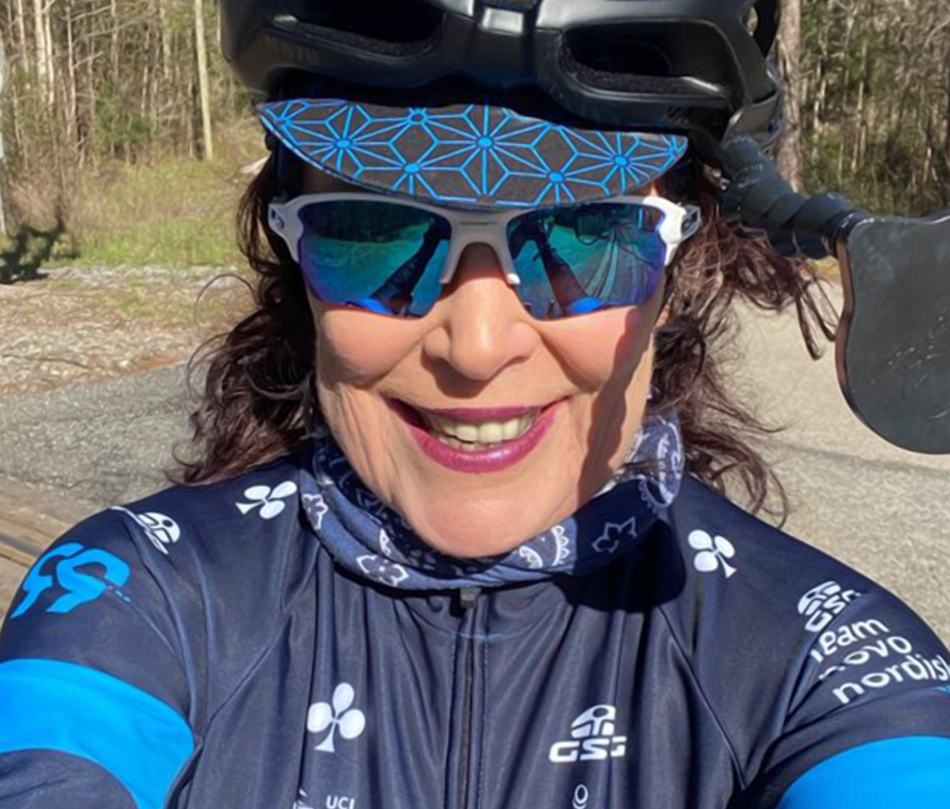 What are the frequently asked questions that you hear from new riders?
"Where do I get a bike and what kind of bike do I get? For me, I go to Joe's, just because they took care of Phil when he was this little punk 14 year old kid. I have a loyalty forever to them."
What are some easily avoidable beginner mistakes?
"Just ask for help. People are afraid to ask for help, but the cycling community is in such a way that 99% of people want to help. If I was starting out I wouldn't get a skinny tire bike, but a fat tire bike. Not fat-fat, but a hybrid bike or mountain bike. Borrow one and see how you like it."
What is your favorite road or trail in town to ride, and why?
For a road bike, I like to go out Whitehouse Rd. It's the landscape, the lighting through the trees, the rolling hills, the canopy. For off-road, I like wide clay roads. I don't like the single-track. Old Centerville Road out by Bradley's or Millpond Road south of Thomasville.
For more information about Joanna, Type 1 Diabetes, and how she is fundraising by riding her bike, check out her website at JoannaSoutherland.com