Bicycle Roundtable
The May 10, 2021 Joint City/County Bicycling Workgroup included the Leon County Bike Month Proclamation with Leon County Board of County Commissioners Chair Rick Minor and a Roundtable event with leaders from various bicycle groups in Tallahassee and Leon County. You may view the meeting here.
---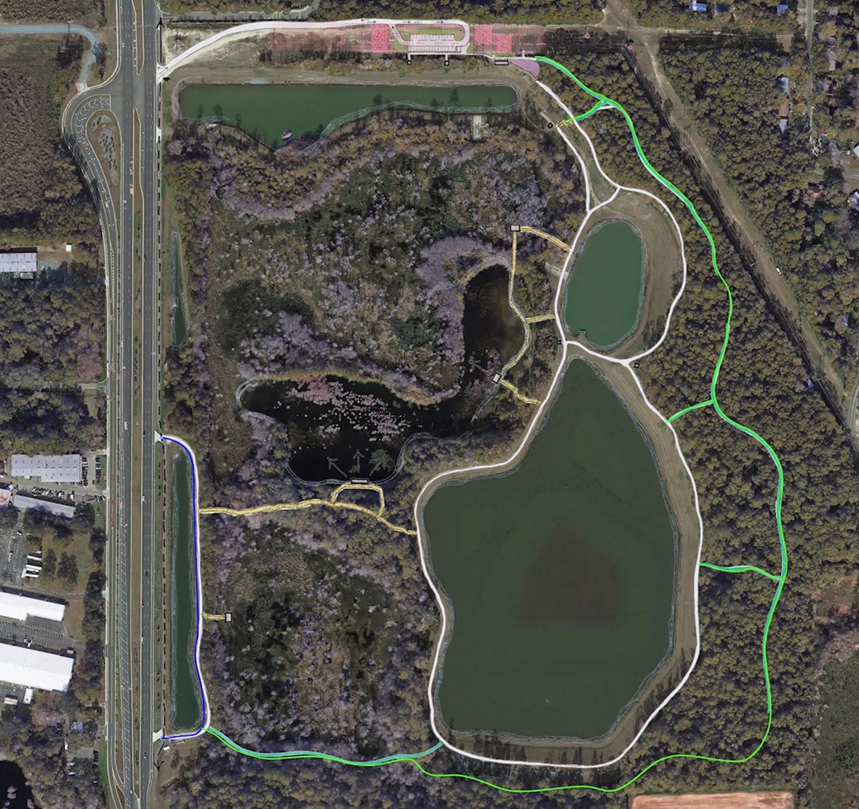 Greenway Trail Enhancements and Nature Park are Coming to Southwest Tallahassee
Natural surface multi-use trails, boardwalks, mountain bike trails, and scenic views are expected to tie-in to existing and proposed cycling facilities along Capital Circle Southwest. These facilities will largely be installed at the proposed Debbie Lightsey Nature Park, formerly the "Delta Industrial Site," to provide a unique passive recreation attraction for walking and biking. Boardwalks with overlook views, nature play areas for children, and natural surface trails are planned for the 113 acre site. Two large stormwater ponds were constructed adjacent to natural wetlands on site for mitigation during the reconstruction of Capital Circle Southwest, around which the main 10' packed gravel path is proposed to meander.
Further south along Capital Circle, trail improvements and bike lane additions in and adjacent to the City of Tallahassee's Golden Aster Nature Preserve are proposed as well. These facilities will eventually tie-in the the proposed extension of the Capital Circle Southwest multi-use trail.
To the east, Lake Henrietta's southbound trail along the Munson Slough is projected to see improvements as well. The section of trail will be aptly named the Lake Munson Spur. The Spur will tie in to the proposed Capital Circle SW multi-use path. Future trail improvements south of Capital Circle to Lake Munson are expected in another phase.
In all, the proposed project(s) will create 6.5 miles of greenway trails in the area.
Blueprint, the intergovernmental agency responsible for implementing the projects, is seeking public input through the online survey found via the link below. The online survey availability has been extended through Friday, July 10. For a virtual tour of the proposed facilities visit the project's web page .
---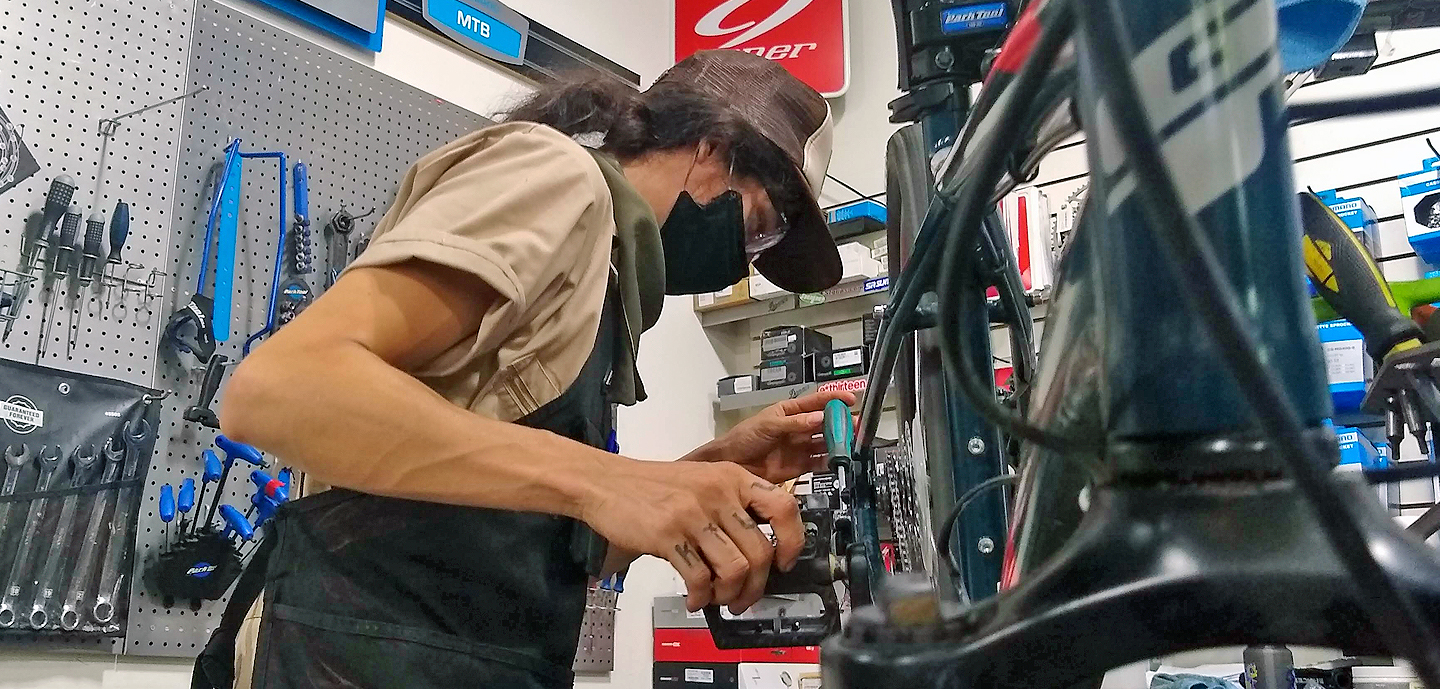 Tallahassee's bike shops always have their finger on the pulse of what's going on in town. In the heat of mid-summer, shops have a lull, while Tallahassee's residents may prefer to drink ice tea than to go for a ride. In the winter, while folks excitedly scurry to make preparations for the holidays, bike shops ensure that there are two wheels in the gift box. While spring usually means warm weather, more daylight, and good business, behind the workbench it feels like Small Business Saturday, every day.
Bicycling was deemed an essential activity by the CDC and FDOH in the early stages of the COVID-19 pandemic as a transportation and recreation necessity. As such, bike shops were tapped as an essential business in serving the needs of the people. Unlike the holidays, when bike shops have months to prepare inventory and properly staff, this pandemic has shop staff stretched thin with repairs and often out of stock, all while learning how to operate business with social distancing and new sanitizing procedures.
We checked in with Tallahassee's local bike shops to see how they were faring during the pandemic. Contact was made via socially distant conversations in person, over the phone, and through email. Although preoccupied, shops graciously took the time to give comment on how they are doing.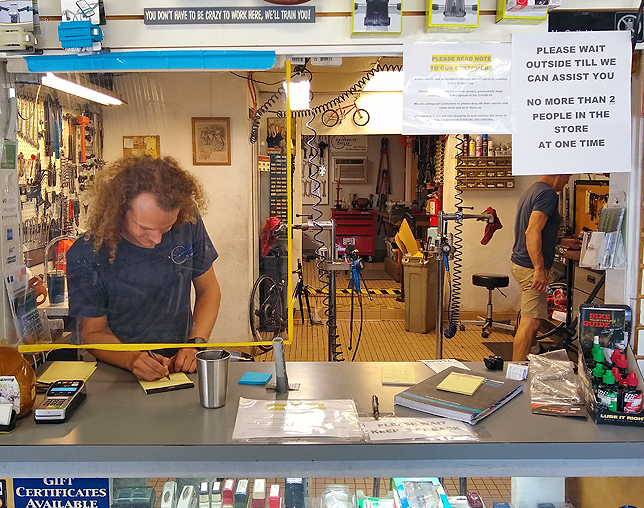 University Cycles owner JD quickly ran down the list of six separate bike brands that stock their sales floor. He explained that new bikes en route to shops across the nation have already been sold to eager customers. "This is the largest sales in bikes we've ever seen." – JD has been working in Tallahassee bike shops since 1993.
"The service department is also swamped with 5-10 times the normal business for this time of year," remarked Kyle Woodworth, mechanic/manager.
"People are choosing to spend crazy amounts to repair old junkers that would normally be scrapped, simply because there isn't an affordable option to buy a replacement."
When asked about steps the shop is taking to promote public safety during the pandemic, Woodworth cited "extra time and effort to wipe down and sanitize surfaces, keypads, etc. between customers. We've also been giving employees the option of time off to self-quarantine if they so desire, or to go for testing."
When asked about staff Woodworth replied "All our staff are wonderful, competent and great to work with. The thing I've noticed most about all of our employees is that they have all adapted wonderfully to the added stress."
The shop is also limiting their retail space to a maximum of two customers at a time, a safety precaution that is having little impact on their ability to do record sales.
At Higher Ground, the only shop north of I-10, it was hard to get a word in edge-wise with the owner, Todd May, as he moved in-and-out of the front door assisting customers with test rides, helmet fitting, and managing a mask-clad staff. Behind the workbench, staff remained busy restocking the shop and servicing repairs. Like other shops in town, the service department at Higher Ground was busy at the bench, tending to a slew of repairs that were completely unanticipated.
Staff members are washing their hands between each customer they assist in addition to sanitation of surface areas in their lobby. The shop's sales floor is off limits at this time, including the lounge where customers could, in pre-COVID 19 times, enjoy a coffee or a beer while their bike is serviced. In the end, that isn't stopping the sales from flying out the door.
The shop's Facebook page has informed its following that "Though we are currently maintaining regular business hours, we will be suspending all shop rides until further notice."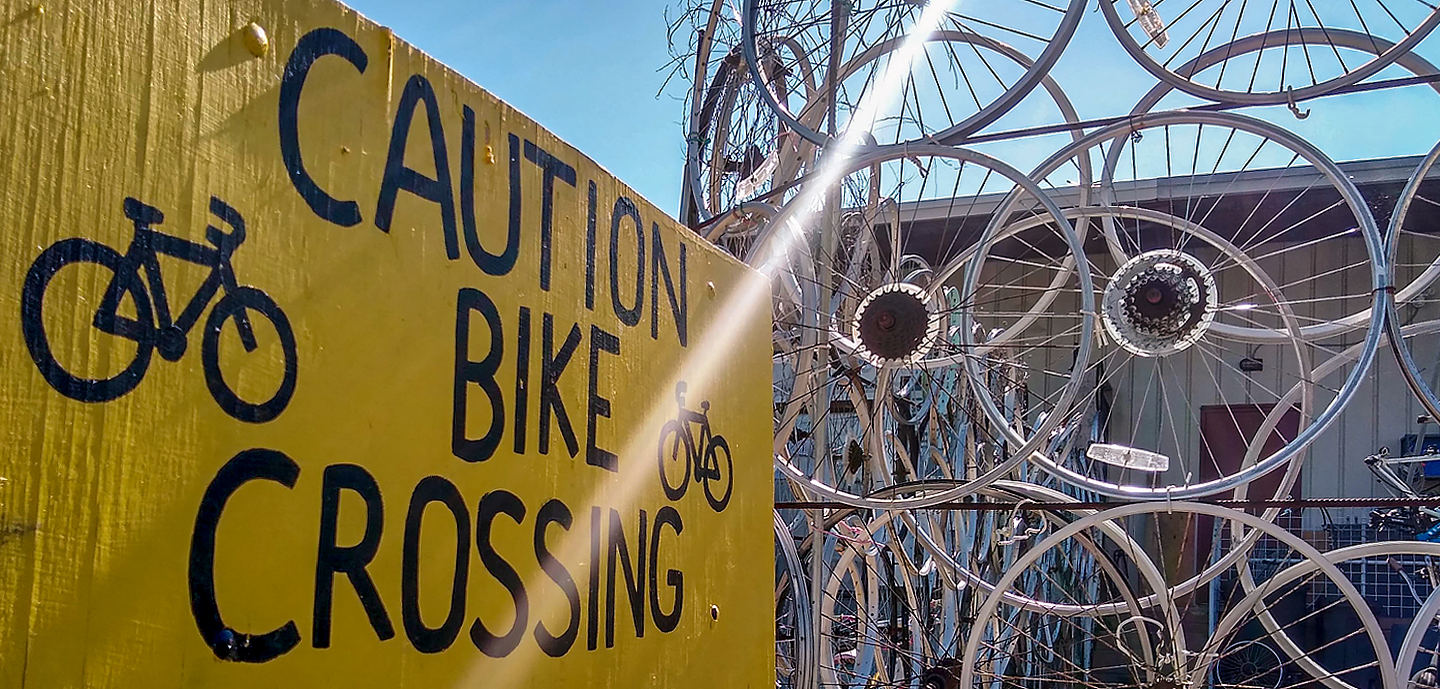 Tallahassee's non-profit bike shop, Bicycle House, is volunteer staffed and able to provide citizens with bicycles and service when the traditional brick and mortar shops aren't able to meet resident's needs financially, or otherwise: "We are always primarily dealing with the mentally-challenged and homeless - it is always a challenge…. With the pandemic, these problems are tenfold. To our 'clients' Bicycle House is more than a place to get a bike fixed, it's a place to come and interact with society - ask questions about things, to sit and drink a cold glass of water. We have many chairs and a nice couch for people to sit and wait - and also watch - while their bike is being worked on," remarks founder Scot Benton.
Regarding operations, "Bicycle House is now open by appointment only. We take care of our 'clients' one at a time. In many cases we replace bikes rather than repairing them. We replace department store bicycles with name brand bicycles in order to make it easier on ourselves to perform repairs in a timely manner."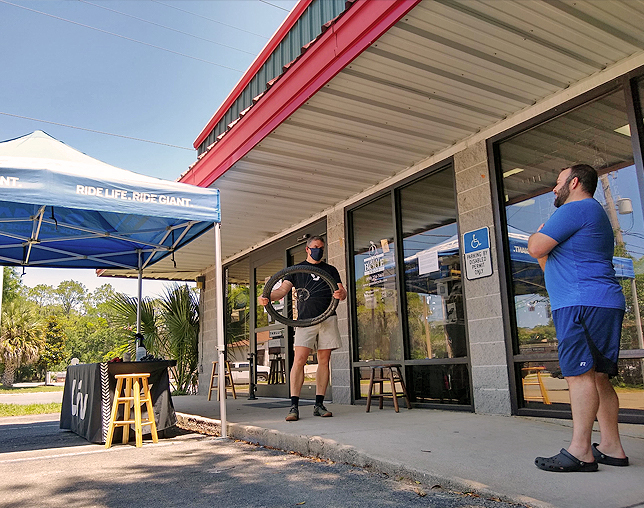 At The Great Bicycle Shop, customers are attended to under the shade of the front awning in addition to a couple pop-up tents. Shop manager Matt Wilson commented "The way we are doing business has changed - we are doing curbside only service. This has been a bit of a challenge, but we feel it's safer for our staff and our customers."
When asked how life has been in the bike shop since the pandemic began, Wilson replied "Busy. There has been a sizable jump in bike sales and service work orders. Our staff has really stepped up and is handling the additional workload well. Our staff has been pushed to the limits with the operational tempo, and they have gone above and beyond."
"Our customers have, almost entirely, been fantastic. They're been understanding of our new procedures and the extended lead times. They've been generous in their support and we appreciate them."
"It's also great to see so many new folks adopting cycling into their lives."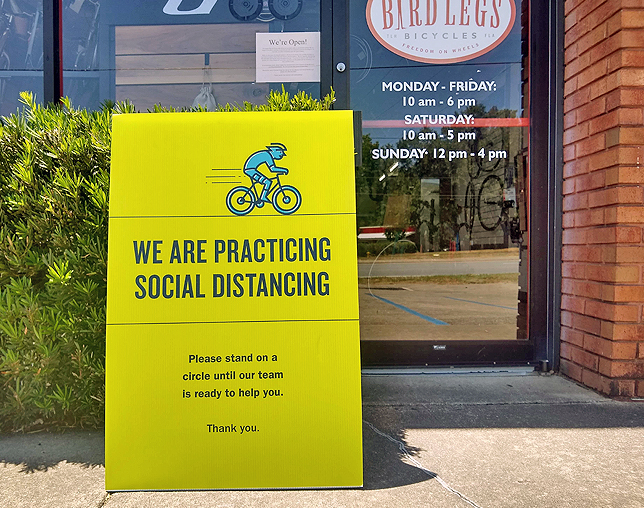 At first glance, the shop floor of Bird Legs appeared to be quite normal. It wasn't until shop manager Kristin Halley lead me to a half empty backstock display rack, usually housing new bikes for sale, that it was apparent that not all was as it seemed. Half of the 40 bike display was empty, with the other half holding bikes adorned with paper tickets awaiting repair.
"We had record months for sales and service in both March and April... with record sales, demand is exceeding supply. We've been sold out of our entry level bikes in all categories for about a month," Halley remarked.
"We have never seen so many bikes in for service at one time. People are bringing in bikes that haven't been ridden in years!"
"We're happy to see so many people getting back on bikes. Despite the low inventory and increased wait times on repairs, customers have been very polite and understanding. Instead of having to limit shop hours, or lay off employees, we were actually able to hire more staff."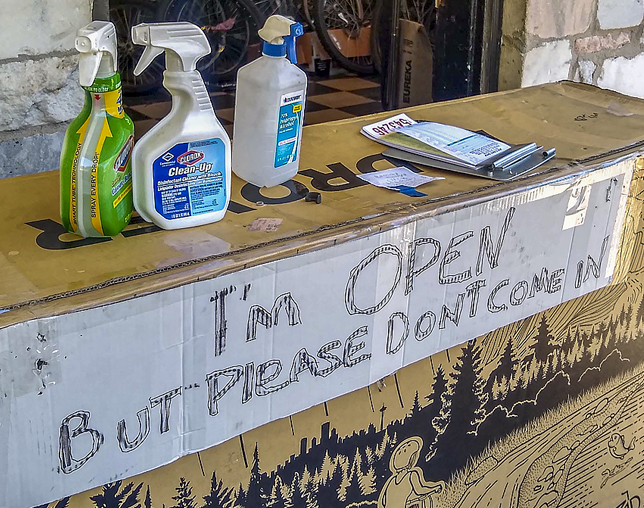 "What do you want?" Joe yelled in his New York accent from his workbench as he saw me approach his shopfront at Lake Ella. Joe's has restricted access to the public for the time being as a safety precaution, the entrance blockaded with a large box topped with cleaning supplies for sanitizing incoming and outgoing bikes.
Previously, Joe's stocked new bikes for sale, but now exclusively offers a selection of used bikes, new parts, and comprehensive service.
"I got tired of owing them money" Joe remarked, when asked why his shop doesn't stock from suppliers. It may seem that Joe is on to something as stock dwindles in shops and warehouses worldwide. A lot of people will (and already have) turned to the used market to find some wheels.
Joe's Bike Shop has reduced their hours to 10am-2pm for the time being. Even with the reduced hours "We're still able to turn around repairs in 3 or 4 days, max."
Given this mini bike-boom, a lot of shop staff have not been able to hit the roads and trails like the consumers they serve. "During the holidays, you at least know the rush is going to die down come December 25th. Right now, we don't know when the craziness is going to end," remarked The Great Bicycle Shop's Matt Wilson over a socially distant cold beverage. This spring has been far from normal, but for Tallahassee's bike shops, business is good.
It is important to note that shop hours and practices may have changed since this article has been published. Please contact shops directly for hours and standards of operations.